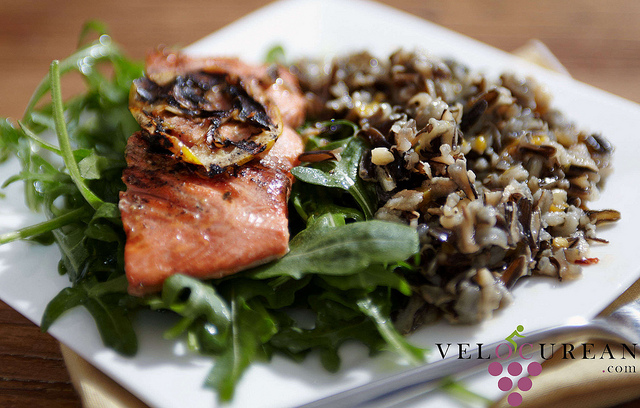 Recipes
This recipe has been a long time favorite of mine. There is something about the way a freshly grilled coho salmon fillet wilts the fresh wild arugula beneath it. The warm, tangy, savory, wild rice is the perfect complement as well. Back when I first began life away from the comfort of home as a freshman at UC Davis and submersed myself as a full time competitive cyclist and student I knew the importance of learning to cook healthy, wholesome, and tasty meals. This is a dish I first discovered during the cold 30-degree days in January in college racking up the base miles on the bike and feeling the craving for something savory and fulfilling.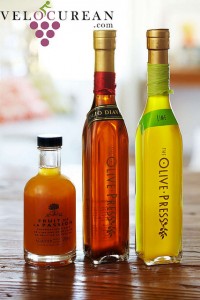 I always knew from all my nutrition classes and my increasing obsession with what would become my career and passion that the rich fatty salmon (particularly the extra oily and rich omega 3-6 coho variety) was perfect nutritionally… I mean the Eskimos ate them… and they know a little something about cold. The extra rich, energy dense salmon full of protein and flavor was perfect for this recipe. Of course if you know me, I like things as natural and "raw" as possible so leaving the skin on was a no brainer. I keep the seasoning to a minimum: fresh ground pepper and the secret of smoked sea salt that resembles notes of one of my favorite Irish single malt whiskies Laphroig. The nutrient rich arugula has a naturally peppery taste that compliments the salmon as well. The arugula is tossed with fresh extra virgin olive oil (more healthy fats for the winter). This is key since a healthy dose of unsaturated fats really help kick up the metabolism and aid in muscle recovery especially when putting in long hours in the saddle. I prepare the wild rice with an extra twist…. three to be exact. A special trio of passion fruit vinegar, lime olive oil, and red hot chili pepper flake olive oil (by Olive Press).  The extra addition of unsweetened, dried mangoes and chopped walnuts is the final touch.
Any Randy Bramblett meal would not be complete without a nice alcoholic beverage to compliment it. After long hard training rides nothing says "recovery" like a premature buzz off one sip of a favorite beverage … in this case and most of my cases, it is a nice, strong, Belgium beer. Paired with this dish was a Duvel. With its heavy body, but still on the lighter side of the Belgium beer world, it compliments any seafood dish. After meals like this with rich nutrients and energy producing fats, you not only will be eating in style but you will drop those stubborn winter pounds just like you'll drop your best buddy on your favorite climb. Eat, Drink, Ride and Enjoy!
Ingredients:
-14 ounces fresh coho salmon (cut into 4  3.5 oz pieces)
– smoked sea salt (or any variety sea salt)
– crushed black pepper
– fresh lemon wedges
– 1 cup wild rice (yields 4 cups cooked)
– 1/4 cup dried, unsweetened mango, diced
– 1/4 cup crushed raw walnuts
– 2 tbsp lime olive oil
– 2 tbsp chili olive oil
– 1/4 cup passion fruit vinegar
-5 ounces organic baby arugula
– dash sea salt and black pepper
– drizzle of olive oil
Directions:
Unwrap salmon filets and rub on smoked sea salt and pepper with olive oil. Apply lemon wedges to each serving. Let sit.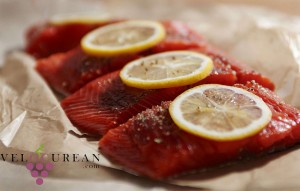 Cook wild rice (note: wild rice expands much more than white or even brown rice) add dash of salt. Once cooked, add diced dried mangoes. Drain and add in passion fruit vinegar, and all olive oils and walnuts. Serve Hot.
Grill Salmon filets on high heat (brush grill with olive oil). Cook until bright red starts to turn slightly pink – DO NOT overcook.
Toss arugula in olive oil and salt/pepper. Make a bed on plate and place salmon filet on top.
Serve rice on the side.
Makes: 4 servings (for portion controlled plates)
Written by – Randy Bramblett
Photos by – Sherry Heck
(Recipe from – "In The Kitchen With Randy Bramblett" on Velocurean.com)