Custom Bike Fit
It was a brisk August morning in Northern California, and I was climbing Big Rock from Lucas Valley Road. It is one of my favorite climbs: quiet, green, and newly-paved, with a rewarding view at the top followed by a long, luscious decent through redwoods and farms. Today was different. Today was the Marin Century Ride, where lots of shiny bikes were cruising past me up the hill. My aluminum Specialized Roubaix climbed this hill with me for the first time 6 years ago. I had joined Team In Training to ride the Honolulu Century although I did not own a bike when I signed up… in fact, I had not ridden anything besides a rented bike in 14 years at that point. After talking to people and doing some research, I ended up with a bike that was the best I could afford at the time.
My bike and I had a rocky relationship with one too many bumps in the road. Yes, it got me through a century ride or two, but I never completely trusted it. As I became a better rider and started climbing with more seasoned cyclists, I noticed some things that were different about my bike. It was that day of the Marin Century 2011 when I realized what those differences were. My bike was turning mole hills into mountains with my inability to shift quickly between gears. I had to peddle hard and fast to keep up with my peers cruising effortlessly down hills.  I didn't feel safe breaking on steep hills that ended in stop signs. Also, the Roubaix didn't have that cool cricket sound when I wasn't pedaling. Although I was reluctant to leave the granny gear behind, it was time for a new bike.
Good bikes are expensive, and in cycling you get what you pay for. I knew I would have to spend a lot more than my first bike to get to the next level – and there were criteria it had to meet. First, it had to be full carbon (high modular of course), full Shimano Ultegra group set and proper wheels. Second, it had to be in my price range $3,500 – $4,000. Finally, it had to be aesthetically pleasing… maybe even unique. My first stop was Specialized, and I found the Specialized Amira expert. It was everything I was looking for; full carbon, all Ultegra group set, Folcrum Racing 4+ wheel set and coming in at $3,700 it seemed like a good choice. I test rode it, but something about it didn't feel right. Since I'm not the kind of person who makes financial decisions lightly, I decided to take some time to shop around some more.
Riding the hills of Marin County, cyclists wearing Studio Velo kits dropped me all the time. Maybe there's some kind of magic in this place. I have been to Studio Velo before, and drooled over their high-end cycling gear and bought a few things from their women's cycling annex.  Although I was sure it was out of my price range, I asked them about their bikes. Happily I was wrong. I could afford a custom fit bike that met all of my criteria.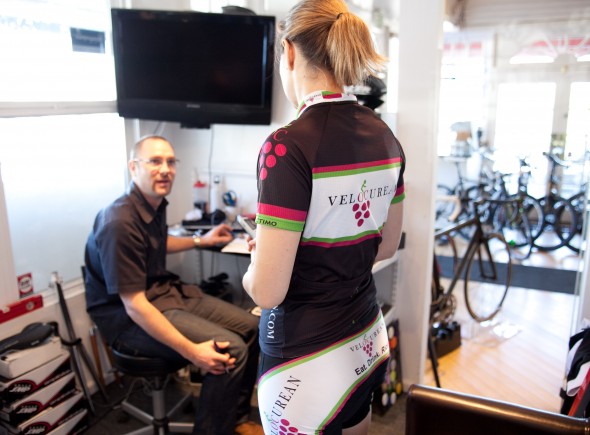 There are three stages of buying a custom fit bike at Studio Velo.
1. Discussion. Have a long chat with the staff of SV about why you are looking for a change, and what your budget is.
2. Fitting appointment with the Fit Specialist. Spend an hour or so on the DFU, (Dynamic Fit Unit) as your riding dimensions are assessed by a computer and the Fit Specialist.
3. Assembled Bike Adjustment. Your bike is put together according to the specs in step 2, and then you ride it a bit and it is fine tuned if necessary.
After the initial consultation, I made an appointment with Colin, who is Studio Velo's main fit specialist. Colin measured my proportions with Bio Size body measurement devise. Next I rode a test set-up (the DFU was in another location at the time, so I rode the Calfee in the photo) in which he measured my angles and observed how I rode while asking questions about my comfort level of the test bike's components. We also discussed my riding goals and fitness level in depth.
We concluded that a Cyfac bike would the best match for me and this one would be custom to the way I ride. I chose a fabulous, unique shade of turquoise for the color, and the bike was ordered. We talked about the component options and chose ergonomic handlebars, SPD SL aluminum pedals, Shimano Ultegra drive train, cassette, and brakes, and Fulcrum 5 wheels.
After a few weeks, the new frame arrived from France and I visited Studio Velo for the next stage, adjusting my new bike to fit me perfectly. Colin and I discussed my concerns about performance, pain, and other issues that the bike fit could address. Getting an accurate bike fit will allow me to use proper muscle recruitment, thus making every pedal stroke more efficient, and alleviate some of the back pain and foot numbness I was having. Colin placed a few Velcro patches one side of my body: my wrist, elbow, shoulder, hip, knee, ankle, heel, and toe. He then attached LED sensors that were strung on a wire and attached it to the computer. The sensors gathered information about the angles and range of my movement. It was time to use the Retül Fit Technology. (Incidentally this is the same system that Garmin and Radio Shack racing teams are using in 2012). Pedaling at a hearty cadence, the Retül took 30 second data capture of my movements on the bike. http://www.retul.com/how-it-works.asp
Colin explained some of the readings the Retül gave him, and then asked about my comfort in my current position on the bike. I felt a bit too upright, and being a little more stretched out would help my lower back. Some people ride as low as at a 33-degree bend, but that inhibits breathing and power development. The average fitted rider is at a 40-45 degree angle. He made some small adjustments to the bike, and after more pedaling, a 41-degree angle felt great at the time.
The hardest part of this whole process was choosing a saddle. The angle of the saddle was bothering me so we went through a few angles and then tried other saddles that may alleviate pressure on the wrong places. The bulk of my weight should be on my sit bones. I really wanted a cool-looking racer seat, but it was just not comfortable at all. Although Colin did his best to explain that the slim model could feel great on longer rides, I insisted on a nice WTB Deva women's saddle. It was slimmer than my previous saddle, but much more comfy than the small slabs that racers ride on.
Finally it was time to hit the road! After riding for a few months, I needed only a few adjustments, which is normal: added handlebar padding, a derailleur adjustment, and I needed to change my angle so I was more upright. On the trainer it felt comfortable being stretched out, but after every 25+ mile ride I had shoulder and neck soreness. We figured out that I was putting too much weight on my shoulders from being at too low of an angle. Colin flipped the bike stem to make me three degrees taller and a million times more comfortable. Shoulder and neck soreness vanished on the next long ride.
Bike fits are recommended for bike riders of all levels. A proper bike fit is important for more than just performance, it is key in injury prevention, and will make your riding more efficient. People will spend thousands of dollars upgrading their components, but without a proper fitting, the expensive pieces will not be used to their maximum efficiency. After my fit and adjustments, I was faster, more comfortable, and had less pain. If you have a bike you love already, a bike fit is $275  including bike adjustments, swapping out new components, and all your fit data in a neat Excel file. If you buy a bike from Studio Velo, the fit price is included. Either way, a custom bike fit is the road to the best ride.
Eat. Drink. Ride.
Live Velocurean!
Text: Sherry Heck
Images: Kevin Eisele