Velocurean Lifestyle – San Rafael Twilight Criterium
22 August 2010
2 Comments
Imagine the following for a moment if you will. It's a perfectly warm 80 degree day in Marin County, not a cloud in the clean, powder blue Northern Californian sky. You're strolling along through the downtown area of the beautiful city of San Rafael. All along your walk you are passing by charming shops, boutiques and a wide variety of restaurants and cafes varying from coffee shops, bakeries, Mexican, Italian, brew pubs, high end restaurants and of course – the all important ice cream and gelato shops (especially on a day like today).  Then you turn the corner to make your way to the picturesque Saint Raphael Church so you can appreciate the architecture and beautiful flowers and trees on the front lawn. To your surprise, the streets are blocked off and there is music playing over loud speakers, people are milling about the sidewalks, spandex-clad men and women on extremely expensive (and flashy) road bicycles are seen everywhere… Suddenly a group of twenty or more bicycle racers carve through the corner in perfect unison at speeds reaching up to forty or more miles per hour. There is no resisting, you must move closer and appreciate the intensity and precision of bicycle racing. Standing at the edge of the course you are cooled by the breeze created by the peloton as it charges by and exhilarated from the noise created by the freewheels, the rubber of the tires gripping through the corner in a fierce lean and the squealing from the feathering of brakes. You are shocked and awed by the raw power, will, determination, speed and skill of these fearlessly intense and passionate riders. An amazing spectacle for avid fans, bike enthusiasts, racers and first time spectators alike! This is what we live for. This is living the dream, the "NorCal" road bicycle-racing scene – the Velocurean Lifestyle…
That was the experience of many on Saturday July 10, 2010 as they happened upon the San Rafael Twilight Criterium presented by Ryan Dawkins of Project Sport. Only in the sport of cycling can we (the spectator) be so up close and personal with the athletes before during and after they compete. At the races they line up along the course on the sidewalks or in parking lots, individually or as a team warming up on trainers or rollers while visualizing the win out on the track. During the race one could actually reach out and touch them (not recommended at high speeds though!), hear them breathing, see them sweat, listen to them communicating and feel the breeze as they blast by. After, we can go out on the course and congratulate, shake hands and talk to them. Then, unlike any other sport, the athletes compete at different levels in different time slots and when done they hang out, grab a bite to eat and drink at one of the vendors tents or at a local pub/café and watch the other races.
During the week, we see them out on the open road putting in hours and miles training, doing intervals, crushing the hills and sometimes just spinning in preparation for the races over the weekend. We as cyclists can be right out there with them and tag along for as long as we can. They are not hidden away in some facility closed off to the public. Though they get little, and often no pay at this level it is a true passion and amazing talent that only few possess and they deserve to be paid more. Yes there is always the potential to be spotted by a National team and possibly go from there to a Pro Tour team and make a career out of racing bicycles. But the reality is that most of these individuals fit all of their training and racing into and around their normal work schedule. They race on Saturday and Sunday, then back to the "office" on Monday…
One of the amazing things about the San Rafael Twilight Criterium was the positive energy that surrounded the downtown area. For eight hours there was this vibrant and healthy pulse flowing through the air and the people that united everyone regardless of anything but proximity to the race. People ate at restaurants and cafes, went into the shops and boutiques and got a chance to experience what San Rafael has to offer that they may not have if it was not for the race. We have the utmost respect and gratitude for cities and towns that shut down a few blocks for a few hours to showcase this amazing sport. Though there are a good number of "crits" throughout the season, most are in the middle of nowhere for reasons I can only assume but am not qualified to make comments on. From what I witnessed in San Rafael, the community (except for traffic patterns) and restaurants are only affected in positive ways. Cyclists are hungry people and love to find new places to eat. We love our towns and cycling community. If all of the Criterium races were put on and run like Project Sport ran this one, which was, "…a wonderful community event but National caliber production" according to Nicola Cranmer (Founder/Manager Peanut Butter & Co. Twenty12 Professional Women's Cycling Team), then I believe that other cities and towns would understand, recognize and welcome the potential of the races and have nothing but respect and admiration for the Velocurean Lifestyle.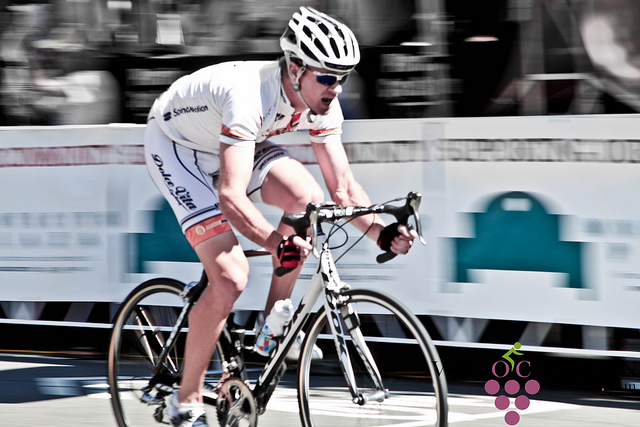 While many, or most, cycling based websites, magazines, photographers etc. are out there with the focused intent to capture and report on the races and athletes, Velocurean is there to encapsulate, embrace, experience and write about the whole culture and lifestyle that is so dependent, addicted even, to the symbiotic nature of food and cycling. San Rafael painted a stunning portrait of this synergy. As pleased as we were to capture Dolce Vita's Zach Starnes leading the Elite 4 peloton for many laps and nearly win the race (he came in 4th), we were also enticed by the uniquely delicious roma-tomato, marinated artichoke, rosemary olive oil, fresh parsley, mozzarella and parmesan cheese pizza and smooth, robust Equator Estates organic coffee at Arizmendi Café to start out the day.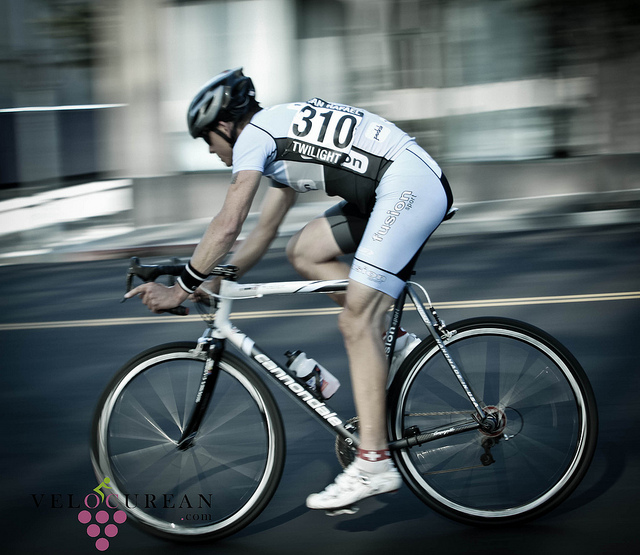 Likewise, we looked forward to seeing whether or not Fusion Sport rider Nick Hanni could pull of a double win as he was victorious in the Masters 35+ race and was also slated to compete in the Elite 3 category, we were lured into the Broken Drum Brewery by the hordes of cycling fans sipping on handcrafted beers in the outdoor seating area. This was the perfect option on a day like this, the I.P.A. (their "most popular beer. Very malty and extremely happy") and Whamber ("a smooth and malty amber wheat beer that warms you quickly") were simply delightful, level, refreshing and did not drink like a pair of 7.2% beers.
Then there was the kids' race… what an amazing turnout for this field that represents the future of men's and women's cycling that only the Bay Area could produce. The group was diverse in age, gender and ethnicity but they all had the passion and intensity of the cyclist and it was displayed right from the gun, as there was a crash in corner 1. The field pressed on to the sound of constant cheers and cowbells… the competition was fierce and the parents were proud of their little athletes as they completed multiple laps in this race unlike any other I have seen. These kids really turned up the heat in downtown San Rafael and put the pressure on the Pro women to follow. As for Velocurean, we headed into Tuttimelon for some deliciously cold and refreshing frozen yogurt to cool down after that face melting intensity in the warm California sun.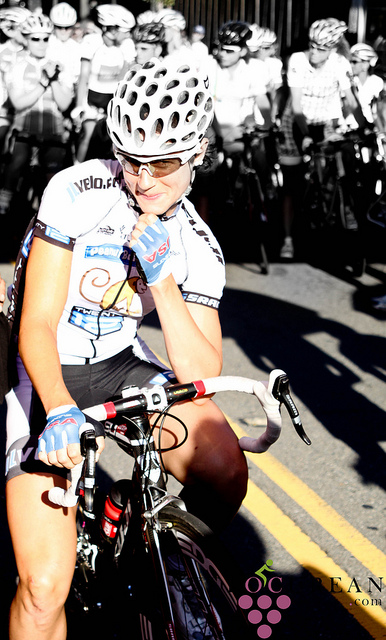 As most of you know our primary focus in the world of competitive cycling is the women's pro peloton. For the last couple of years we have been developing unique ways to build awareness and gain respect from and for these amazing athletes. This race did not let us down. In fact I can only describe it one way – fast, fast, fast, right from the mini canon blast. Seriously, there was a little canon about the size of a beer bottle at the start. The field was stacked with talent from the likes of Hanan Alves-Hyde, Elis Bradshaw, Susannah Breen, Kat Carroll, Megan Gaurnier, Laurel Green, Devon Haskell, Mary Maroon, Yukie Nakamura, Martina Patella, Jennifer Reither and Cheryl Shwe, just to name a few. It started immediately with a break containing 5 or 6 riders for quite a few laps. The pace maintained and the pack eventually captured them. Then, Kat Carroll of Peanut Butter & Co. Twenty12 attacked and gained a 20 second lead, which held for the next 25 laps despite multiple attacks and attempts to reel her in. The most successful one came from Megan Guarnier of TIBCO, which brought the gap down to about 10 seconds in the final 3 laps. Then, when the final bell rang for the last lap and it was obvious that Kat Carroll had it all sewn up, Hanan Alves-Hyde, also on Peanut Butter & Co. Twenty12 attacked the rest of the field followed by Mary Maroon of Touchstone Climbing and Fitness and the fight for second and third was on. Mary took Hanan in the final straight away giving "PB&J" a 1st and 3rd outing and making Mary Maroon a peanut butter and Maroon sandwich, which was a delicious treat for us.
All of this action and running around to get the photos made us pretty hungry. So it was back to the Broken Drum for more beers and some burgers. Kevin got the Hickory Style Cheeseburger with chipotle BBQ sauce, bacon and sharp cheddar and I got the Black and Blue with Danish blue cheese, which were pretty good and left us satisfied while we looked though the photos we just capture during the race. Fans and athletes from the previous races were also enjoying food and beers and though the window we watched the Pro men take the course at extremely high speeds. All the while, replays of previous years Tour de France played on the TV. It was pretty Velocurean…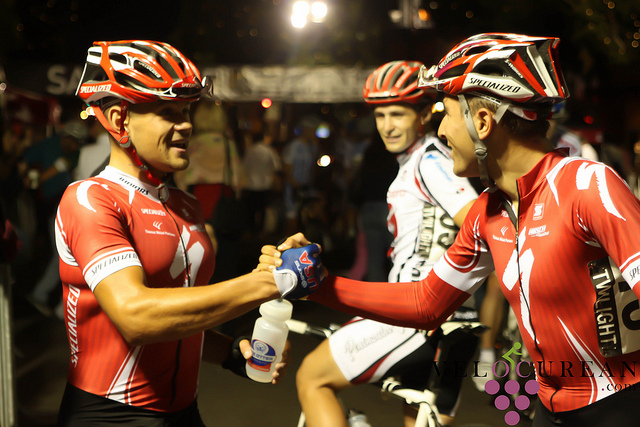 We headed out into the streets to watch the last laps of the men's race, the "Twilight" headliners. The corners were lit very nicely as well as the main straightaway but the straightaway between corners 2 and 3 was dark and added a mysterious and exciting emergence from corner 3 into a very fast downhill through corner 4. Though the pace was extremely high and the competition was fierce and exciting with long stretched out lines 2 by 2 through tight corners I cant help but hope one day there will be a twilight criterium that features the women racing at night. The crowds grew steadily throughout the day and everyone thoroughly enjoyed themselves both as racers and spectators. It was a top-notch production in a top-notch Marin city. Ryan Dawkins, we appreciate what you do at Project Sport and are forever grateful to the city of San Rafael for respecting the sport of cycling and hosting such an event.
Ride Hard and Prosper! Live Velocurean!
Written by – Joshua Seaman
Photos by  – Kevin M. Eisele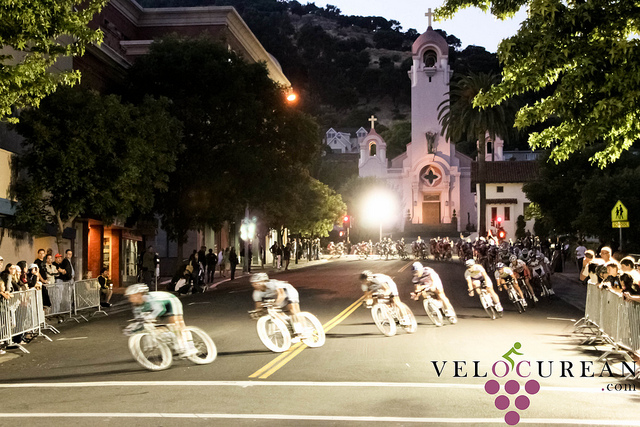 (For a more detailed race report please take a look at CycleTo.com or PodiumInSight.com)